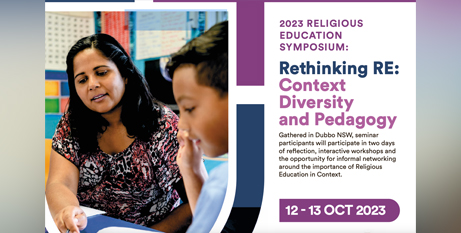 More than 250 religious education leaders and teachers from across Australia will gather in Dubbo, New South Wales, today for the start of a two-day symposium on "Rethinking RE". Source: BBI-TAITE.
The Rethinking RE: Context Diversity and Pedagogy symposium will be led by Richard Rymarz, and will feature keynote speakers Darwin Bishop Emeritus Eugene Hurley, Sandhurst priest and musician Fr Rob Galea and Catholic Schools NSW's Sharon Cooke. Tomorrow's sessions are directed particularly at incorporating of Indigenous faith perspectives into the RE curriculum and classroom.
Across the two days, workshops will cover topics presented by a range of experts and research practitioners and participants will have many opportunities to network with each other. Bathurst Bishop Michael Mckenna will preside at the celebration of the Eucharist.
"The strongest responses we have received from participants in previous symposia is that they most value the human interaction, a chance to be with others who share a common passion for religious education," Professor Rymarz said.
The symposium is a collaboration between Catholic Education Diocese of Bathurst and BBI – The Australian Institute of Theological Education.
BBI-TAITE principal Gerard Moore said the symposium is part of the BBI mission to equip teachers and school leaders, including and beyond the major cities.
"The symposium builds skills, knowledge and confidence, and is a great complement to graduate studies in Religious Education," Professor Moore said.
Details: 2023 Religious Education Symposium
FULL STORY
Religious Education Symposium Rethinking RE Context Diversity and Pedagogy (BBI-TAITE)