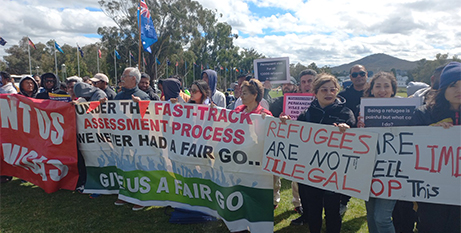 Dozens of refugees gathered outside Parliament House in Canberra yesterday to call on the Albanese Government to fast-track permanent resident visas. Source: Canberra Times.
The event was part of a set of rolling actions across the nation. The protesters will be joined today by a group of more than 20 mainly Tamil and Iranian women who are walking from Immigration Minister Andrew Giles' office in Melbourne to the national capital.
They say Labor has ignored the situation of the 10,000 to 12,000 asylum seekers processed under a flawed fast-track refugee assessment, and of asylum seekers who have arrived by boat.
"We are demanding justice, protection and certainty for all refugees, asylum-seekers and their families," protester Geetha Ramachandran said.
"We believe that no one should be left behind, and that the rights of all refugees must be recognised and upheld. This includes study rights for their children and work rights for adults."
Asylum-seeker Mahdi Azizi, a 40-year-old who came from Iran to Australia by boat in early 2013, said he has been living on bridging visas in the hope of one day securing permanent residency in a country where he says he feels safe.
Mr Azizi says as a Christian, returning to Iran would be dangerous.
"In Iran, if you're not [Muslim], they'll send you to jail, maybe forever. Maybe they kill you," he said.
Labor has promised a pathway to permanent residency for 19,000 refugees on temporary protection visas and safe haven enterprise visas, but another 12,000 refugees who were subject to the former Coalition government's 'fast-track' process still have no pathway to permanent residency.
FULL STORY
Protesters seek permanent visas for refugees (By Paul Osborne, AAP via Canberra Times)
Hundreds of asylum seekers rally in Canberra, call on government to grant them permanent visas (By Natalie Vikhrov, Canberra Times)