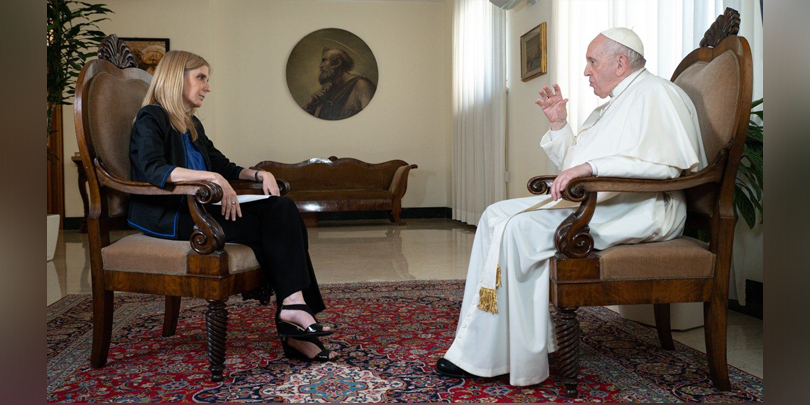 Pope Francis has discussed the ongoing Synod, wars and global crises, and his desire to visit Argentina and Papua New Guinea in an interview with an Argentinian news agency. Source: Vatican News.
"Exploitation is one of the origins of war. The other origin is of a geopolitical nature related to territorial dominance," Pope Francis told the Télam news agency.
He spoke first about the many crises facing the world. He highlighted the importance of teaching young people to resolve crises, saying it "brings maturity" and teaches us to recognise false messiahs.
Télam journalist Bernarda Llorente asked the Pope: "What is humanity lacking, and what does it have in excess?"
Pope Francis responded by highlighting the need to promote "true values".
"Our world lacks protagonists of humanity who demonstrate their human role," he said. "Sometimes, I notice that there is a lack of the ability to manage crises and bring forth one's culture. Let's not be afraid to let a country's true values come to the surface. Crises are like voices that point out where we need to take action."
On the topic of war, he made a call for nations to pursue dialogue in hopes of peace. "I believe that dialogue cannot be nationalistic only," he said. "It is universal, especially today with all the communication facilities available. That is why I speak of universal dialogue, universal harmony, and universal encounter. Of course, the enemy of this is war."
Regarding the ongoing Synod on Synodality, Pope Francis acknowledged that the Church needs to adapt to the times of every age.
"It is not just about changing fashion, but about a change that promotes the dignity of individuals. And that is where theological progression lies, in moral theology and all ecclesiastical sciences, even the interpretation of the Scriptures, which have progressed in accordance with the Church's sentiments. Always in harmony."
Pope Francis told Télam that he would like to go to Argentina. "Speaking of the farthest places," he said. "I still have Papua New Guinea left."
FULL STORY
Pope: A crisis calls us to take action and embrace humanity (Vatican News)