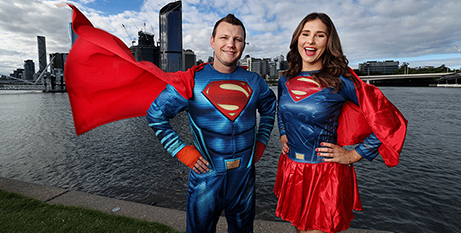 A boxing champion and a beauty queen are joining forces with Mater to battle bullies and empower young Queenslanders to protect their mental health. Source: The Catholic Leader.
Former welterweight world champion Jeff Horn and 2015 Miss International Australia Larissa Hlinovsky have both experienced mental health struggles and are concerned by the rise of depression and anxiety among children and young people.
Mr Horn will discuss his story and mental health strategies at an online forum for young people, parents, teachers and counsellors later this month.
The webinar on October 30 is being hosted by the Mater Young Adult Health Centre and Mater Education and will showcase the potentially lifesaving services available to young people aged 16 to 25.
According to the Australian Bureau of Statistics, 40 per cent of people aged 16 to 24 years reported experiencing a mental health disorder in the past 12 months.
Mr Horn, a former Brisbane school teacher, said that being bullied at school pushed him to the brink of suicide.
The 35-year-old is now an ambassador for BullyProof Australia, a program aimed at changing attitudes towards bullying and mental health at every school in Australia.
"Bullying doesn't just happen in the school yard, it happens everywhere," Mr Horn said.
"For me, this webinar is a great opportunity to stand side-by-side with Mater to stop bullying no matter what age."
Cheering on Mr Horn from the sidelines, Ms Hlinovsky, 34, said bullying had destroyed too many young lives.
"This webinar will help carers to empower young individuals to have their own voice so that they can help empower others".
Mater Young Adult Health Centre director Professor Simon Denny and Mental Health Nurse Practitioner Anya Synder will join Mr Horn to discuss the various services dedicated to young people at Mater, including the Mater Young Adult Health Centre Brisbane in-patient ward – the only unit of its kind in Australia.
FULL STORY
Boxer and beauty queen unite with Mater to boost youth mental health (The Catholic Leader)