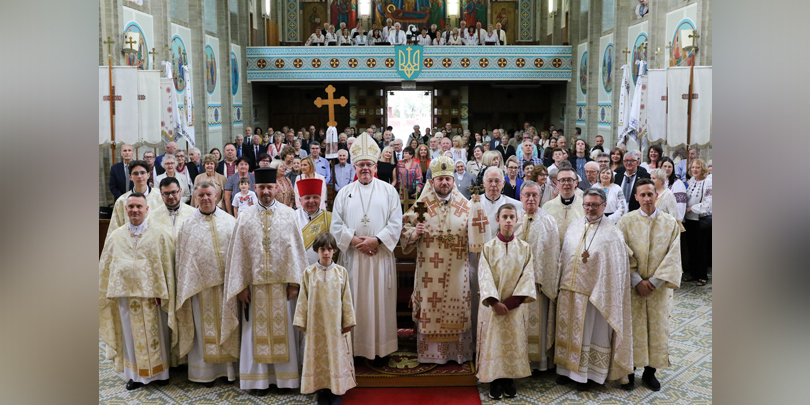 The Ukrainian Catholic community has celebrated the 60th anniversary of the blessing of the Cathedral of the Holy Apostles Peter and Paul in Melbourne.
The cathedral was filled with the faithful and guests who joined in a celebration of prayer on October 21.
The Hierarchical Divine Liturgy was presided over by Bishop Mykola Bychok CSsR, in concelebration with the Apostolic Nuncio to Australia, Archbishop Charles Balvo, as well as the priests and deacons of the Ukrainian Eparchy of Melbourne.
In his homily, Archbishop Balvo expressed gratitude to Bishop Bychok for the invitation to this special occasion and shared his childhood memories connected to the Ukrainian Greek Catholic Church in America.
At the conclusion of the liturgy, Bishop Bychok thanked all those present and also acknowledged the important role of the faithful and clergy who have served at the cathedral from its inception.
He emphasised the contributions of Bishop Ivan Prasko, the founder of the Eparchy of Melbourne and the builder of the cathedral, and Bishop Emeritus Peter Stasiuk, who followed in Bishop Prasko's footsteps.
On the occasion of the celebration, a video message was also delivered to the faithful by Bishop Emeritus Stasiuk. In his address, he expressed gratitude to God for the blessings bestowed upon Australia and the Eparchy of Melbourne and called upon everyone to reflect on the future:
"The future of our Eparchy and the cathedral parish depends on you. These 60 years have been successful. I believe it will continue to be so in the future," Bishop Stasiuk said.
The liturgy was followed by a festive dinner and concert at Ukrainian House in Essendon.
FULL STORY
Celebration of the 60 years of the Cathedral in Melbourne (Ukrainian Catholic Church)