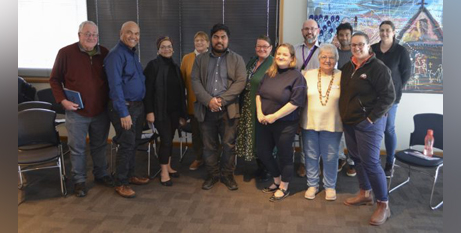 Ways in which the Church and community groups can welcome and help seasonal workers from the Pacific Islands were discussed at a recent meeting in Launceston. Source: Hobart Archdiocese.
Each year, Pacific Islander seasonal workers are welcome additions at Catholic Masses throughout Tasmania. In turn, a number of parishes welcome the workers, provide advocacy and support, and host community events.
Representatives from some northern parishes, Launceston assistant priest Fr Chathura Ranmuni Silva and representatives of Pacific Australia Labour Mobility, businesses, labour hire firms, government departments and community groups were among those who attended the meeting at the Launceston Catholic Parish Centre.
One of the aims of the meeting was to gain a better understanding of the workers' situations and ways in which Church and community groups can enhance their experiences while they are in the state.
This has been an issue close to the heart of Catholic parishioner Denise Talbot for the past five years, since Timor-Leste workers employed on berry farms in the Northern Midlands area became part of the Kings Meadows Catholic parish family.
In 2019, the parish received a Missionary Sisters of Service grant to host a welcome party at Longford for seasonal workers, with support from the Northern Midlands Council. It was a great success with more than 400 workers and locals in attendance. It won the Northern Midlands Australia Day event of the year award.
Fr Silva, who is Hobart Archdiocese's chaplain for migrants and refugees, said it was important to gain a better understanding of the seasonal workers and look at ways to welcome them to the local community.
"I want to highlight that the seasonal workers are here to support us. They are here helping us by working on the farms so our responsibility is to make their lives easier. It is not that we are supporting them so much as they are here to help us."
FULL STORY
Parishes give warm welcome to Pacific Islander workers (By Wendy Shaw, Hobart Archdiocese)