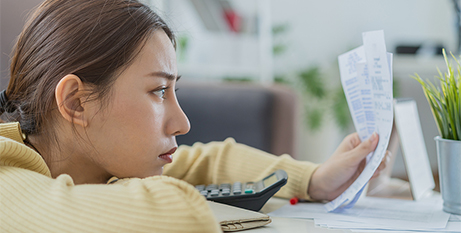 Young adults are particularly vulnerable to the physical and mental effects of financial stress, amid cost-of-living pressures, new research has shown. Source: Sydney Morning Herald.
Financial issues are affecting the mental health of 83 per cent of young Queenslanders aged 18 to 41, compared with 80 per cent in NSW and 84 per cent of Victorians, a YouGov study commissioned by UBank shows.
Two out of three young Australians were also experiencing physical effects from financial stress, and seven out of 10 agreed their relationships with friends and family were being affected.
The top three reasons for financial stress are difficulties in budgeting and juggling everything with the rise in living costs, savings running low/running out, and not having enough savings for emergencies or unexpected expenses.
Black Dog Institute clinical psychologist and head of clinical research Peter Baldwin said young people had more difficulty coping with financial stress.
"Older people tend to earn more money and have been through financial stress before and learnt to cope through things like the global financial crisis whereas young people don't have a frame of reference," Dr Baldwin said.
"They could be stressing more about the future and how they will be able to afford to buy a house or a car and starting a family and having an enriched life they want."
Mr Baldwin said people connected their financial status to their sense of belonging in life and self-worth. He urged people to stay away from unhealthy behaviours such as alcohol and spending more money or isolating themselves at home.
FULL STORY
'Make some hard choices': More young people under financial stress (By Jocelyn Garcia, Sydney Morning Herald)