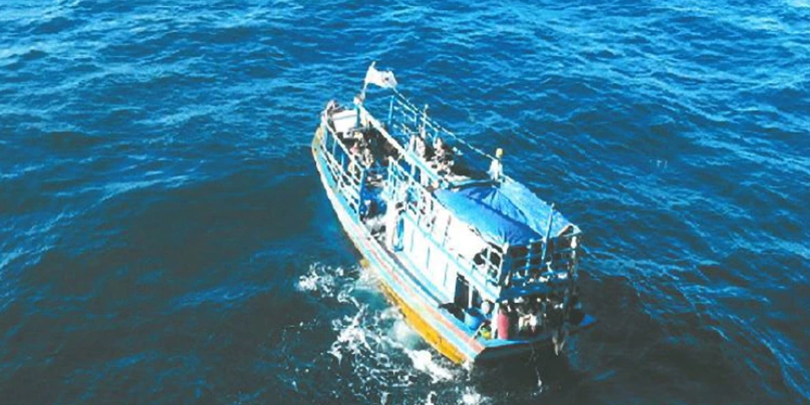 The Albanese Government turned vessels back or returned asylum-seekers aboard them on seven occasions in its first nine months in office, quietly continuing the Coalition's Operation Sovereign Borders policy. Source: The Guardian.
New details of the ventures to Australia reveal that almost 200 people, including 14 children, have attempted to come by boat since Labor's election in May 2022.
Labor has faced more than twice as many boats a year than attempted to come to Australia in each of the final years of the Coalition, which turned or took back two to three vessels a year from 2016-17 to 2019-20.
The Albanese Government has abolished temporary protection visas, but otherwise kept the core pillars of Operation Sovereign Borders (OSB). These include offshore detention, turnbacks – in which vessels returned to just outside the territorial seas of the country of departure – and takebacks, where Australia sends asylum-seekers back by plane or through an at-sea transfer.
According to answers to questions on notice, seven boats attempted to come to Australia in the nine months to March 31, including one with 15 adults reportedly flown back to Sri Lanka just days after Labor took office.
The answers do not specify the country of origin or where asylum-seekers were taken back to. Regular OSB updates reveal only the number of "unauthorised maritime arrivals" but not the number of turnbacks or takebacks.
The Refugee Council said: "Australia's policy of boat turnbacks is not only dangerous and harmful but also unlawful under international law."
The Albanese Government maintains that OSB is legal and argues its policies are "tough on borders" without being "weak on humanity".
A spokesperson for ABF said in the five years before OSB, "approximately 50,000 people arrived in Australia on 820 boats, and more than 1200 people are known to have lost their lives at sea attempting to come to Australia".
FULL STORY
Almost 200 asylum-seekers returned by Albanese government since May 2022 (By Paul Karp, The Guardian)