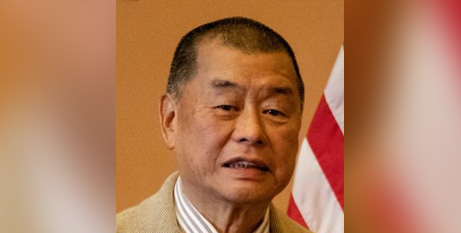 The Hong Kong Government has dismissed a petition from 10 bishops to release the Catholic entrepreneur and democracy activist Jimmy Lai from prison, accusing them of using "distorted words" which verge on "contempt of court". Source: The Tablet.
Sydney Archbishop Anthony Fisher OP and Cardinal Timothy Dolan were among the signatories of the appeal launched on November 1.
They said that Mr Lai's support for democracy through public interventions and his since-closed newspaper Apple Daily was no cause for imprisonment. He was arrested in 2020 under a draconian national security law and has been in prison for more than 1000 days, with prosecutors now threatening a life sentence.
"There is no place for such cruelty and oppression in a territory that claims to uphold the rule of law and respect the right to freedom of expression," the petition said.
The territory's authorities issued a statement on November 9 accusing the "foreign Catholic leaders" of attempting "to interfere in the internal affairs of Hong Kong and in the independent exercise of the judicial power of its courts".
On November 7, Hong Kong Watch published a report detailing "clear signs of violations of freedom of religion or belief and early warning signs of worse to come" in the territory.
It specified threats to legislative protections for religion and religious education, and the effects of self-censorship, with the Chinese Communist Party working to "coerce and subsume religious institutions into its apparatus of state".
Writing on The Tablet's website, the report's author, Benedict Rogers said: "We cannot separate political and religious freedoms. When freedom of expression is taken away, freedom of conscience – and thereby, religion – is inherently undermined."
FULL STORY
Hong Kong refuses to release Jimmy Lai as fears of religious repression mount (By Ellen Teague , Patrick Hudson, The Tablet)
RELATED COVERAGE
Bishops call for release of Hong Kong pro-democracy activist (CathNews)