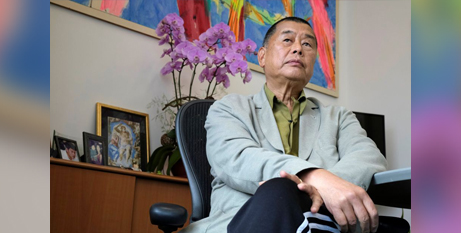 Sydney Archbishop Anthony Fisher OP is one of 10 bishops from around the world who have called for the release of prominent Hong Kong pro-democracy activist and Catholic Jimmy Lai, who has been imprisoned there for nearly three years. Source: CNA.
Mr Lai has been an outspoken democracy advocate in Hong Kong for years. He founded the tabloid Apple Daily in 1995 which took a strong pro-democracy stance in the administrative region.
Mr Lai was arrested in August 2020 under that year's controversial national security law, which was passed by China's communist-controlled government and sharply curtailed free speech in the region in an effort to quash what the Chinese Communist Party considered subversion and sedition in the separately administered region of Hong Kong.
The law's harsh penalties include life in prison for what the government deems sedition or terrorism, including acts such as damaging public transport facilities. Mr Lai was accused of colluding with foreign adversaries and conspiracy to defraud.
Since then, the activist has been convicted of assembly violations and a fraud charge. In September, he marked his 1000th day in a Hong Kong prison awaiting trial on further charges.
In a petition this month signed by Archbishop Fisher and nine other bishops, the prelates "call[ed] on the Government of the Hong Kong Special Administrative Region to immediately and unconditionally release Jimmy Lai".
"Mr Lai's persecution for supporting pro-democracy causes through his newspaper and in other forums has gone on long enough," the prelates wrote.
"There is no place for such cruelty and oppression in a territory that claims to uphold the rule of law and respect the right to freedom of expression," they said.
Sebastien Lai, Mr Lai's son, said he was "grateful and honoured to see Catholics and Catholic leaders from around the world speaking out on my father's behalf, and calling out for his release from unjust imprisonment."
"My father's faith and belief in right and wrong are key to understanding why my father stood up for democracy for the people of Hong Kong, despite the obvious dangers to his life," he said.
FULL STORY
Catholic bishops call on Hong Kong government to release pro-democracy activist Jimmy Lai (By Daniel Payne, CNA)
RELATED COVERAGE
Catholic Bishops Speak Up for Jimmy Lai (Wall Street Journal)