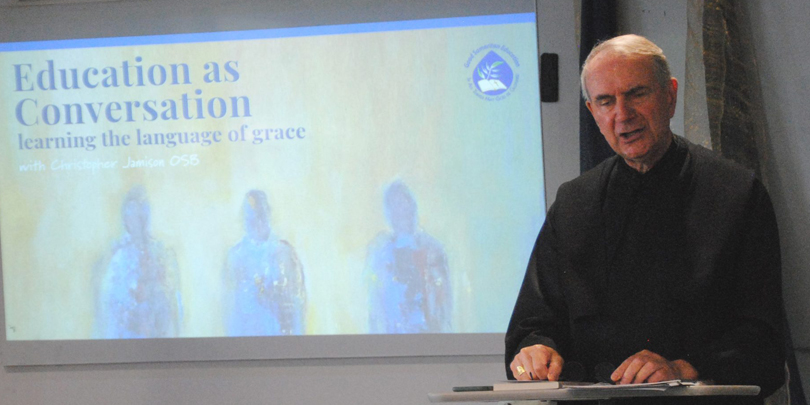 Prominent Benedictine monk Abbot Christopher Jamison was in Sydney recently to explore some of the themes of his new book about grace and language, and how the two play a key role in public and private discourse today. Source: The Good Oil.
The book is entitled Finding the Language of Grace: Rediscovering Transcendence.
Abbot Christopher is Australian by birth but moved to England as a child, where he later joined the Benedictine Monastery in Worth and became Abbot. He is the President of the English Benedictine Conference. He came to prominence some years ago, when he featured in the BBC television series The Monastery, which was watched by millions.
Speaking at the St Scholastica Centre, Glebe, Abbot Christopher said his book examines four key components of a language of grace: Speaking, Listening, Writing and Reading. He said each of them can be occasions of grace, of restoring trust, pursuing questions, exploring mystery, and experiencing and speaking about transcendence, something which is becoming less common, especially among young people.
"I think what I'm trying to do is I'm trying to help people find the future, let alone finding the language of grace. Because I worry that everything nowadays starts as a problem, then becomes a crisis, and ends up as an emergency," he said.
"I don't want to deny that there are problems, so I don't want to be utopian about it … but equally I don't want to buy into the language of climate emergency … because I don't think it helps me solve the climate problem."
There was a similar use of emergency-style language around other social issues, he said.
"What I try to do is say we've got to reimagine our language around these issues because then we might find a meeting place of all the different views from which we can move forward."
FULL STORY
A new book examines the force of grace in our lives (By Debra Vermeer, The Good Oil)