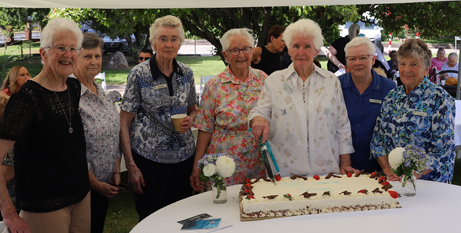 Mercy Health is celebrating 100 years of service of the Sisters of Mercy in the local community of Young, NSW, through a month-long celebration this November.
The Sisters of Mercy founded Mercy Health, first arriving in the Young community in 1923 when the Goulburn Congregation took over management of Mount St Joseph's Home (now Mercy Place Young) and Sacred Heart Hospital (now Mercy Hospital).
Celebrating the milestone, Group Chief Executive Officer Angela Nolan paid tribute to the Sisters of Mercy whose legacy lives on within Mercy Health and all its services nationwide.
"For the past 100 years, the Sisters of Mercy have selflessly served the people of Young with hospitality and compassion. It is both heartening and honourable to sustain their legacy by providing the highest quality of care to the communities we serve," Ms Nolan said.
Sister Theresa Foley is one of the many Sisters of Mercy who cared for the local Young community, beginning her journey with the Mercy Order in January 1962. Across her time with Mercy Health, Sister Theresa said she witnessed many periods of change and watched Mercy Health deliver high quality care by the legacy of the Sisters of Mercy.
"In my beginning years, I watched many renovations take place and saw firsthand how Mercy Health grew into the dedicated health service it is today," she said.
Reflecting on her time in Young, Sister Theresa said the community has always played an important role in supporting the Sisters of Mercy.
"We are very grateful to the many trainees, trained staff, ancillary staff doctors and the people of Young who have supported us over these past 100 years."
FULL STORY
Mercy Health Celebrates 100 years of Service for The Sisters of Mercy in YoungSister (Mercy Health)