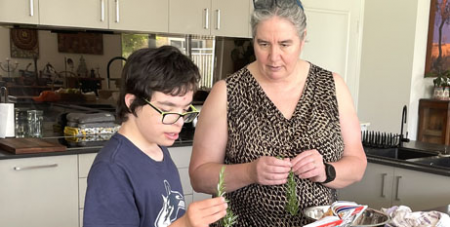 Helping caregivers to better understand and meet the health care needs of people living with a cognitive impairment or intellectual disability is the aim of a new health literacy guide published by The University of Notre Dame Australia.
The 180-page guide, which is now freely available online, was developed by Rachel Skoss from UNDA's Health Research Institute following widespread consultation with stakeholders, families and healthcare providers. It was also supported by a WA Department of Health Research Translation Project grant.
The guide covers topics such as healthy lifestyles and preventative care, managing specific health conditions, navigating the health system, and engaging with health professionals. It also contains advice about how to help people with an intellectual disability understand what is happening to them and empower them to make informed decisions about their treatment options.
Dr Skoss said people with an intellectual disability were more likely to suffer from multiple health issues and those issues were often undermanaged, resulting in poor long-term health outcomes.
"Caregivers are often family members or support workers who receive little training to help them manage the extremely complex health needs of the person they are caring for," Dr Skoss said. "Further complicating matters is the fact that the person receiving care is often not able to clearly communicate how they are feeling or what symptoms they are experiencing.
"That is why it was important to bring together as much practical information as possible into one handy document that is easy to read and also includes additional links to a range of trusted sites promoting best practice healthcare advice from around the world."
Dr Skoss said it is hoped the guide will also be a useful resource for medical practitioners, and disability organisations who support people living in group homes."
FULL STORY
New guide to improve health outcomes for people with intellectual disabilities (UNDA)