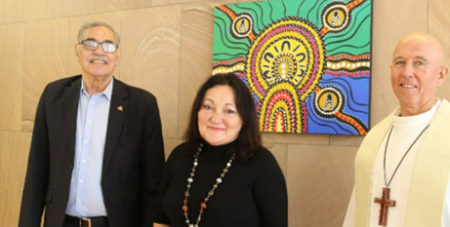 Brisbane Auxiliary Bishop Tim Norton SVD has called on Catholics to be "bridge builders" and "mediators" in reconciliation with First Nations Australians. Source: Catholic Leader
"The Church has a role to establish safe places and communities of reconciliation where the harsh truth can be told and listened to and healing can be fostered in a trusting and prayerful environment," Bishop Norton said at the unveiling and blessing of a reconciliation artwork that depicts the Brisbane Archdiocese.
The painting by Quandamooka artist Shara Delaney was commissioned as the archdiocese moved forward implementing a Reconciliation Action Plan (RAP).
It now hangs in the Hanly Room, Francis Rush Centre, in Brisbane's St Stephen's Cathedral Precinct.
Bishop Norton said it was significant that the historic second assembly of the Plenary Council assembly held in Sydney in July passed three motions recognising the Church's relationship with Aboriginal and Torres Strait Islander people.
"Reconciliation in the world is our primary task as Christians – it really is.
"Anything we can do towards reconciliation makes us better Christians wherever we are in the world."
Ms Delaney said her artwork design shows "the journey of faith, which is guided by the Spirit".
"It is depicted where the blue meets the green and the main path represents the journey of faith which is heading towards the centre," she said.
"The main circle represents the Brisbane Archdiocese community as a whole. From the centre it branches out to the smaller circles to support and stay connected to the vulnerable in our communities.
FULL STORY
Brisbane bishop: Reconciliation is a primary task of Christians (By Mark Bowling, The Catholic Leader)