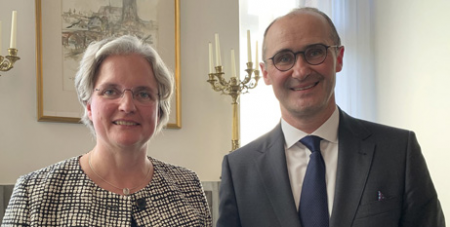 German Catholics involved in the Synodal Path are convinced the Church must address the "systemic causes" of the clerical sexual abuse scandal and that will require change, according to Charlotte Kreuter-Kirchhof, a member of the German Synodal Assembly. Source: CNS.
And while some of the assembly's proposed changes sound radical to some — with the harshest critics warning that the Synodal Path could lead to schism — Kreuter-Kirchhof said, "We are members of the Roman Catholic Church, and we will stay members of the Roman Catholic Church."
Professor Kreuter-Kirchhof, a professor of law and member of the Vatican Council for the Economy, spoke about the Synodal Path at a conference at the German embassy to the Holy See this week.
The fourth assembly of the Synodal Path was in September. The fifth and final meeting is scheduled for March.
In the wake of the clerical abuse scandal and with the release of a major study of its causes, the German bishops' conference and the Central Committee of German Catholics launched the Synodal Path in 2019. The process began with forums to discuss issues in the four areas the study identified as containing the "systemic causes" of sexual abuse and its cover-up: the exercise of power in the Church; sexual morality; priestly existence; and the role of women in the Church.
"Abuse has brought endless suffering to the victims," Professor Kreuter-Kirchhof said, and "the Church has lost an infinite amount of trust."
Some 360,000 people officially left the church in Germany in 2021, and the number seems set to be even higher for 2022, she said.
The only way out is to address the systemic causes of abuse, she said.
FULL STORY
Germany's Synodal Path continues to draw attention in Rome (CNS)