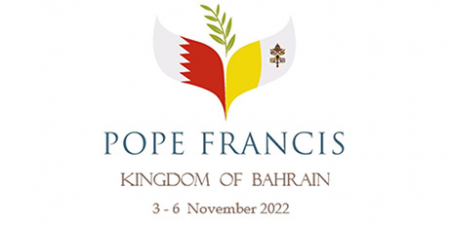 Pope Francis is set to make an Apostolic Visit to the Kingdom of Bahrain in November to encourage the country's small Catholic flock and to attend the "Bahrain Forum for Dialogue: East and West for Human Coexistence". Source: Vatican News.
The Holy See Press Office yesterday released the program for the papal visit to the Middle East country, along with the logo and motto.
The Bahrain Forum for Dialogue will also see the participation of Sheikh Ahmed Al-Tayyeb, Grand Imam of Egypt's Al-Azhar Al-Sharif.
Over 200 other religious leaders from various parts of the globe are also scheduled to attend the forum, hosted by Bahrain's King Hamad bin Isa Al-Khalifa.
During his trip to the central Bahrain city of Awali, the Pope will make a courtesy visit to King Hamad, attend the closing session of the Bahrain Forum for Dialogue, meet privately with the Grand Imam of Al-Azhar and hold an audience with the members of the Muslim Council of Elders.
The Pope will meet with Christians living in Bahrain, holding an ecumenical prayer for peace in the Our Lady of Arabia Cathedral in Awali, and will also celebrate Mass in the Bahrain National Stadium.
The motto for the Apostolic Journey to Bahrain is "Peace on earth to people of goodwill", which is taken from the Gospel of Luke, 2:14.
The visit's logo consists of the flags of the Holy See and the Kingdom of Bahrain, which are represented in stylised form as two hands open towards God.
FULL STORY
Vatican releases programme of Pope Francis' visit to Bahrain (By Devin Watkins, Vatican News)