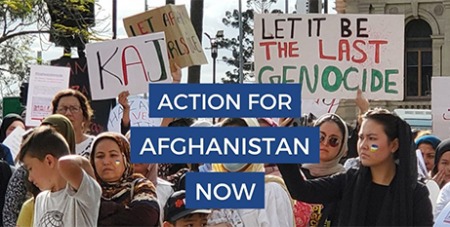 Jesuit Refugee Service Australia is urging the Albanese Government to hasten its response to refugees from Afghanistan, speeding up special humanitarian visas and transitioning temporary and safe haven visa holders to permanency. Source: Jesuit Refugee Service
The call comes after a terrorist attack at a learning centre in Kabul left 53 dead, 46 of whom were girls, and 110 injured last week, painfully illustrating the danger faced by people in Afghanistan, particularly members of the Hazara ethnic community who were targeted in the attack.
"Australia should consider any and all options to scale and hasten its response to the emergency situation in Afghanistan," said Tamara Domicelj, JRS Australia country director.
Since the forceful takeover of Afghanistan by the Taliban in August 2021, Australia has received thousands of applications for the Special Humanitarian Program, including by Australian citizens with family in Afghanistan. Very few, if any, have been issued, leaving at-risk people in Afghanistan and countries in the region exposed to violence, persecution, and destitution. Among those facing such risk are families of Temporary Protection Visa and Safe Haven Enterprise Visa holders from Afghanistan who have suffered more than 10 years of enforced family separation because of punitive government policies.
The Albanese Government has promised to grant them permanent visas and pathways for reunification with their families, but has not indicated a time frame.
"Australia did not need another bloody reminder to illustrate the dangers of delayed action," said Shuja Jamal, head of Policy, Advocacy and Communications at JRS.
"The attack in Kabul is a wake-up call for Australia to act in keeping with the real, overwhelming and present danger faced by the people of Afghanistan, particularly the Hazaras."
FULL STORY
Australia must take immediate steps to protect Hazaras (Jesuit Refugee Service)