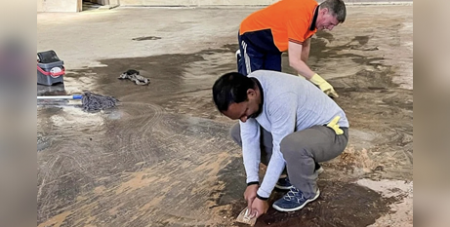 Community leaders in Goulburn, New South Wales, are outraged after vandals broke into a historic cathedral undergoing a major restoration and caused an estimated $70,000 damage to the building. Source: The Catholic Weekly
A police investigation is underway into the overnight attack on St Peter's and Paul's Old Cathedral in Goulburn on September 24.
The church is due to mark its 150th anniversary on November 30 and is listed on the NSW State Heritage Register, having been the cathedral church for the former Goulburn Diocese from 1871 to 1969.
Parish priest Fr Joshy Kurien estimates the vandals caused $70,000 damage after breaking three stained glass windows and throwing a tin of gold-coloured paint over 100-year-old parquetry flooring which was undergoing restoration.
They also stole up to four metres of copper downpipe, which then led to water leaking into the cathedral, causing further damage to flooring and painting on the walls which had just been completed.
Fr Kurien joined parish volunteers in spending a few hours on the day after the attack scrubbing the floors to try and protect the parquetry.
"This project was a big challenge to start with, as we started it about a year ago during the COVID pandemic and now we're determined to get all the repair work done as best we can before the scheduled reopening date on November 30," he said.
"Fortunately we have security cameras installed and we have footage of the crime which we've handed over to police".
The head of the cathedral's restoration committee, Ursula Stephens, said the project has been planned by successive parish priests over four decades and the whole community is in deep shock that vandals would target the church in this way.
Donations are welcome towards the Restoration Appeal for St Peter's and Paul's old cathedral in Goulburn. Details: https://www.sppoc.com.au/donate/
FULL STORY
Heartache as vandals target historic church (By Michael Kenny, The Catholic Weekly)