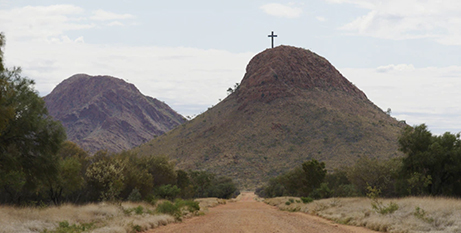 After more than a decade, a vision to build a giant cross in a remote Aboriginal community in Central Australia has become a reality. Source: ABC News.
First proposed in 2009 by residents of Haasts Bluff (Ikuntji), 230 kilometres west of Alice Springs, the 20-metre-high, multi-million-dollar steel monument was last month erected atop Memory Mountain.
The project has been spearheaded by renowned landscape photographer Ken Duncan, who was approached by community members to help realise their dream.
Through his Christian charity, Mr Duncan has raised millions of dollars from private donors to fund the cross, which locals say will serve as a spiritual meeting place and create job opportunities.
Local elder Douglas Multa said the vision first came to his uncle, Nebo Jugadai, one night at an Easter celebration at the base of the mountain – a site of historical and cultural significance for Haasts Bluff and surrounding communities.
Mr Multa said he felt emotional seeing the structure completed.
"When I first saw it, we had tears in our eyes, we cried, because it's in our land – our country," he said.
"It makes me and my people proud to have something like this in our country."
He hoped the project would help create a prosperous future for the community through tourism.
The final element of the monument is expected to be completed by the end of the year, when solar-powered LED lights will be installed to illuminate the cross. Further construction work on the track leading up the mountain will be carried out before it is opened to the general public.
FULL STORY
Giant cross monument on Memory Mountain finally a reality for remote NT community (ABC News)