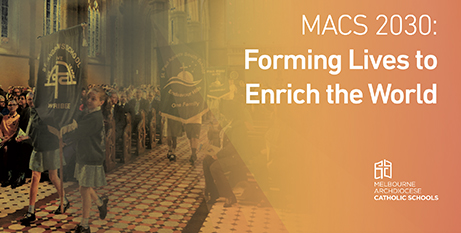 Melbourne Archdiocese Catholic Schools has launched its inaugural strategic plan, following an extensive process of consultation and development.
MACS board chair Gerard Dalbosco said Melbourne Archbishop Peter A Comensoli had challenged the board and the Catholic education community to be "bold and ambitious" in developing the inaugural plan for the body formed in January 2021 to operate approximately 300 Catholic schools across the Archdiocese.
MACS 2030: Forming Lives to Enrich the World is the result.
"This is an exciting plan for Catholic education that I believe responds faithfully to Archbishop Peter's challenge," Mr Dalbosco said.
"While recognising the changing needs of students and families, and the ever-evolving world around us, the plan stays faithful to Catholic education's core purpose of forming lives of faith, hope and love in the light of Jesus Christ."
Mr Dalbosco said parents are increasingly looking for a more holistic approach to education, focused on the development of the "whole person" and that will help children succeed and be happy and confident in the world, no matter what path their future may follow.
"This aligns strongly with the distinctive promise of Catholic schools to provide an education that is focused on the whole person and tailored to each student's individual needs and, in doing so, presents us with a significant opportunity."
MACS executive director Jim Miles said the plan aligns the efforts of MACS staff to make the most of what a Catholic education has to offer and ensure schools can deliver the greatest and most distinctive impact in classrooms, staffrooms and school communities.
FULL STORY
Melbourne Archdiocese Catholic Schools launches inaugural strategic plan (MACS)