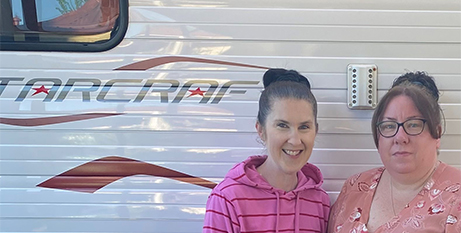 Aged care staff living in flood-ravaged areas in Victoria's Hume region have banded together to support each other – and their older clients – through the crisis. Source: VMCH.
Despite many of their own homes being under threat, and some underwater, At Home Aged Care staff from Catholic for-purpose organisation VMCH have continued to work to ensure older clients are safe and well.
VMCH supports hundreds of older people with personal care, allied health, nursing, transport and meal support in the Shepparton, Rochester and Echuca regions, hit hard by devastating floods this past week.
For Shepparton resident and rostering coordinator Brooke Chew, "home" is now a caravan belonging to colleague Eloise Crees's home in nearby Yabba North. Clinical case manager Ms Crees and her family offered Ms Chew a place to stay when they learned her home was under threat from flood water.
"My husband and I were actually on our way to Echuca testing out our new caravan but turned around when we learned flooding was hitting crisis point in Shepp," Ms Crees said. "I knew Brooke lived alone so we wanted to help."
Ms Chew and Ms Crees have continued to work from Ms Crees's home, coordinating client rosters and working alongside case managers and client liaison officers to make welfare checks on VMCH clients to ensure they are safe and have adequate food and medications.
They say all of their clients are safe for now, with most taken in by friends or family.
VMCH will continue to provide support to its ageing clients as they begin the clean-up once floodwaters fully drop.
FULL STORY
Aged care workers band together during Victorian floods (VMCH)