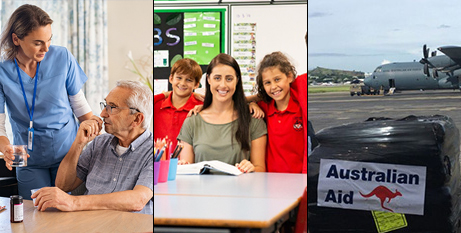 Key national Catholic organisations in health, education and foreign aid have broadly welcomed the Albanese Government's first Budget, released yesterday.
Caritas Australia, Catholic Health Australia and the National Catholic Education Commission were among the Catholic organisations to respond to the Labor Government's first Budget.
Caritas chief executive Kirsty Robertson said Labor has increased the foreign aid budget, with a $1.4 billion commitment to foreign aid and development over the next four years.
The Budget focused on supporting Australia's region, with an increase of $900 million to the Pacific and Timor-Leste and $470 million to Southeast Asia.
Ms Robertson said the increase to the aid budget would make a world of difference to countless people in our region and beyond."
"We commend the focus on the Pacific and Southeast Asia as our closest neighbours, especially as these two regions have been devastated by the climate emergency, COVID-19 and now the cost-of-living crisis," she said.
The National Catholic Education Commission said it was pleased with the Government's commitments to additional university teaching places, early childhood education and student wellbeing.
"The federal Government's move to allocate 4036 additional teaching places, including 1469 for early education teachers, is a positive step towards addressing the teacher shortage and ensuring there is a teacher in front of every student every day," NCEC acting executive director Sally Egan said.
Catholic Health Australia also said it saw many positives in the Budget, calling the $3.9 billion investment in additional aged care a "down payment on future aged care reforms and the election commitments of the Albanese Government".
It said Treasurer Jim Chalmers' promise to fund an increase in aged care workers' wages in future budgets would be a welcome relief to a sector struggling with workforce shortages and COVID-related fatigue.
FULL STORY
Caritas Australia welcomes increase in foreign aid from Labor Government (Caritas Australia)
A welcome down payment on future aged care reform (CHA)
Federal Budget Labor's first budget shows a commitment to teacher workforce, early childhood and student wellbeing says Catholic education (NCEC)