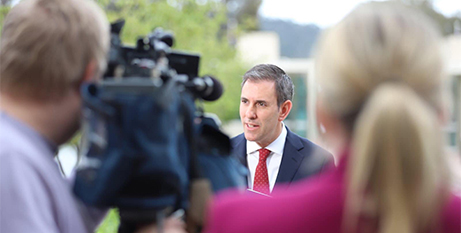 Australians are facing a bleak couple of years, with Treasury forecasting dual woes of sustained high living costs and declining real wages. Source: ABC News.
Alarming energy price forecasts have even prompted Treasurer Jim Chalmers to threaten market intervention if needed to buffer the pain felt by households.
Labor's first Budget in almost a decade forecasts real wages will not start to grow until 2024, when unemployment is tipped to have increased 1 per cent to 4.5 per cent.
The Budget is tipping electricity prices to increase, on average, by 20 per cent by Christmas and a further 30 per cent in the next financial year.
Combined, that would amount to a 56 per cent increase in power prices over the next 18 months.
While Australians have felt the pain of rising living costs, the Budget has been a winner from it, with extra billions flowing into government coffers.
But the Government is forecasting revenue to take a hit amid growing social services expenses including the NDIS, which is growing at an average of about 14 per cent a year.
In releasing a Budget in October, Labor is seeking to stamp its authority on government and implement the promises it took to May's election.
The Treasurer has framed the Budget around three priorities: offering some cost-of-living support, building a more resilient modern economy and beginning the task of Budget repair.
The Budget forecasts an ageing population and climate change as two of the greatest challenges Australia will face in the coming years.
FULL STORY
Australians in for tough financial times as federal Budget forecasts declining real wages and high living costs (ABC News)