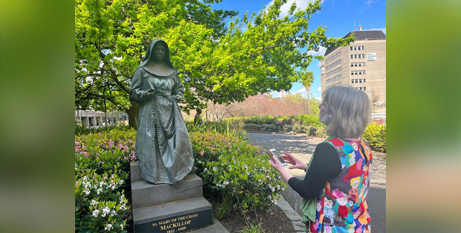 Anyone with a mobile device can now explore the rich cultural and historical treasures within Melbourne's inner-city Catholic precinct using a new walking tour app. Source: Melbourne Catholic.
The Catholic Precinct Walking Tour App is a virtual guide and resource for visitors to St Patrick's Cathedral in East Melbourne and other significant sites in the surrounding area, including Albert and Brunswick streets, and Victoria Parade in Fitzroy.
It includes information about key places, people and aspects of Catholic culture, and gives users the ability to view text, images and linked information, and to listen to commentary and other audio files. The app will be officially launched on Thursday by Archbishop Peter A Comensoli following the Mass to celebrate the 125th anniversary of the consecration of St Patrick's Cathedral.
Fiona Power, curator and educator at the Mary Glowrey Museum in Fitzroy, produced the content and oversaw the development of the app. She worked with designer Mary Ferlin and museum team member Karin Clark to create an app that is intuitive and informative.
"We wanted a design that made the app engaging and easy for all ages to use," Ms Power said. "We combined colourful graphics with contemporary and heritage photos and easy-to-navigate prompts and information. We hope people will feel confident to explore it, using familiar app features and actions like tapping on the images, links, tabs, and playing audio."
The Catholic Precinct Walking Tour App is free and can be downloaded via QR code or on the App Store or Google Play (search for "Catholic Precinct Walking Tour").
FULL STORY
Catholic precinct comes alive in new walking tour app (By Fiona Basile, Melbourne Catholic)