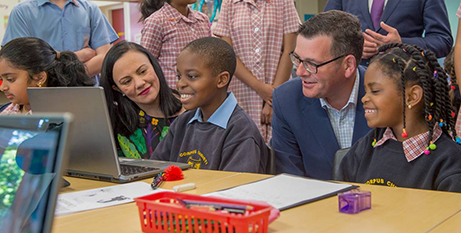 Four new Catholic primary schools, a new school campus and upgrades to 13 Catholic and low-fee independent schools have been promised by Victorian Premier Daniel Andrews in an election pledge valued at $717 million over four years. Source: The Age.
The announcement focuses on Victoria's growth areas, particularly in the west and north-east of Melbourne, with two new schools and an upgrade promised in the key state election seats of Yan Yean and Melton.
Of the funding, $450 million will go towards building and upgrading Catholic and independent schools across the state, with Catholic schools receiving at least 70 per cent of the investment, in line with their share of students.
Mr Andrews said the Melbourne Archdiocese Catholic Schools has promised to match the Catholic school funding by 20 per cent.
Where possible, the Government is also promising $250 million to build and upgrade about 60 kindergartens at Catholic and independent schools to allow for smooth drop-off for families with multiple children and to ensure all non-government kindergartens receive the standard non-government school rate of $3831 per enrolment.
The Smile Squad free dental van will also visit low-fee independent and Catholic schools from 2026 – saving on trips to the dentist – thanks to a $17 million pledge to expand its services.
In early October, the Opposition promised $700 million over four years for Catholic and non-government schools. The Opposition's education spokesman, David Hodgett, said Labor's new funding announcement was "very similar to ours".
FULL STORY
Andrews pledges $717 million for Catholic and independent schools in key election seats (By Nicole Precel, The Age)