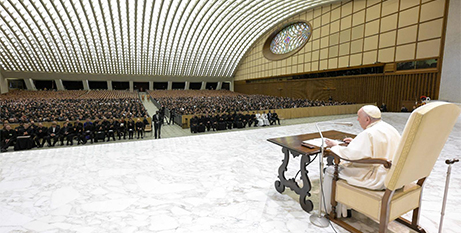 Pope Francis says it is a "reality" that some priests, seminarians and religious use pornography, and warned that pornography represents an opportunity for the devil to enter the soul. Source: The Tablet.
Speaking to priests and seminarians studying in Rome, Pope Francis said he would not ask the hundreds assembled to raise their hands if they had at least one experience of using their phones to access pornography.
But he asked them to think about whether they had experienced this or the temptation of pornography.
"It is a vice that has [afflicted] so many people, so many lay people, so many lay women, and also priests and nuns. The devil enters from there. And I'm not just talking about criminal pornography like that of child abuse, where you see cases of abuse in vivo: this is already degeneration. But a bit of 'normal' pornography.
"Dear brothers, pay attention to this. The pure heart, the one that Jesus receives every day, cannot receive this pornographic information."
He urged any of those present who had downloaded such material to remove it. "If you can delete this from your mobile phone, delete it, so you won't have the temptation in hand."
He added: "I tell you, it is something that weakens the soul. It weakens the soul. The devil enters from there: it weakens the priestly heart. Excuse me if I come down to these details on pornography, but there is a reality: a reality that touches priests, seminarians, nuns, consecrated souls. You have understood? All right. This is important."
FULL STORY
Pope Francis admits 'reality' of pornography use among priests and Religious (The Tablet)