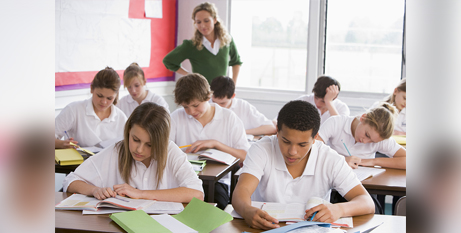 Almost 15 per cent of year 9 boys don't meet the national minimum achievement standard for reading — the highest proportion ever, according to the latest NAPLAN test results. Source: ABC News.
Experts have described the latest data — breaking down the COVID cohort's performance in this year's standardised literacy and numeracy assessments — as a "mixed bag", showing no overall decline in learning.
The curriculum authority, ACARA, said despite a dip in year 9 spelling results, and concerns around year 9 boys' reading ability, long-term trends over the past 15 years showed students' results had broadly stayed the same or improved.
However, Grattan Institute Education Program Director Jordana Hunter said while the results showed COVID disruptions have not had the dire academic impact many feared, she worried about an overall slip in maths results since before the pandemic.
"Right across the board in all different states and territories and across different year levels, those numeracy results are quite a bit down on where they were in those pre-pandemic years," Dr Hunter said.
She said the decline in year 9 reading, particularly among boys, also demanded policy-makers' attention.
Just 86.5 per cent of year 9 boys met the national minimum standard set for reading, down 5 per cent from 2008.
The 2022 test had the fewest participants since NAPLAN began, with a steep drop off from the previous year.
ACARA chief executive David de Carvalho said the 2 per cent dip in participation across the board was an "issue of concern".
This year's NAPLAN show results among Indigenous students are broadly improving.
However remote and Indigenous students saw some of the lowest participation rates, with just 67.8 per cent of year 9 students in the Northern Territory sitting the numeracy test.
FULL STORY
NAPLAN results show no overall decline in learning, but 2 per cent drop in participation levels an 'issue of concern' (By Gabriella Marchant, ABC News)
RELATED COVERAGE
Boys' literacy plummets in NAPLAN results, but phonics-led recovery in early years (The Australian)