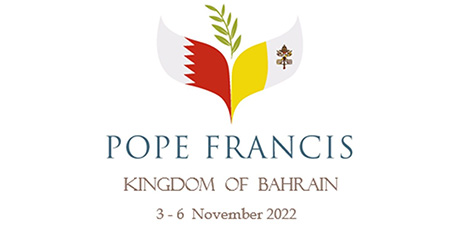 Pope Francis is set to make a four-day visit to Bahrain this week – a journey that will make him the first pope to visit the Arab kingdom in the Persian Gulf. Source: Crux.
The November 3-6 visit has two main goals: To speak at the Bahrain Forum for Dialogue: East and West for Human Coexistence and to encourage the predominantly expatriate Catholic and Christian communities who live and work in the Muslim-majority region.
Underlining the theme of the visit, "Peace on Earth to people of goodwill," the Pope is expected to be a "messenger of peace," appealing to all people and nations to come together, free from prejudice and open to seeing each other as brothers and sisters.
It will be the 13th Muslim-majority nation he has visited in his almost 10 years as Pope.
Pope Francis is going to Bahrain to further promote interfaith cooperation because "there is a common interest among the monotheistic religions," Bishop Paul Hinder, administrator of the Apostolic Vicariate of Northern Arabia, told reporters by video call from Abu Dhabi last week.
The common desire is to help "care for creation … knowing that if there is a conflict between Christian- and Muslim-majority nations, it is a problem for the whole world, not just for one or two countries," said the 80-year-old Swiss bishop, who was first appointed auxiliary bishop of Arabia in 2003, and now oversees Bahrain, Kuwait, Qatar and, formally, Saudi Arabia.
The intention of the Pope, he said, is "to make us understand that it is absolutely necessary" to find a place where there can be strong mutual respect and cooperation.
Bahrain, a prosperous archipelago nation of about 30 islands, is the smallest country in the Middle East, with about 1.5 million people, about half of whom are foreign workers. About 74 per cent of the residents are Muslim and 9 per cent are Christian.
FULL STORY
Focus on Dialogue: Papal trip to highlight importance of opening doors (By Carol Glatz, Crux)