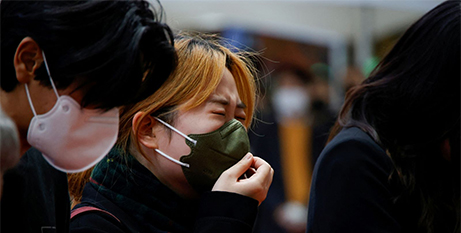 Catholic bishops in South Korea expressed sorrow and offered prayers for 154 people who died in a stampede during Halloween celebrations in Seoul. Source: UCA News.
Officials are concerned that the death toll could rise because at least 33 people remain in a critical condition.
The tragedy occurred in Seoul on October 29, when about 100,000 people, mostly in their teens and 20s and wearing Halloween costumes, poured into the narrow, winding streets of of Seoul's Itaewon district, a popular nightlife neighbourhood.
"We entrust to God's mercy the victims who unfortunately lost their lives in the tragedy," the Catholic Bishops' Conference of Korea said in a statement.
"In addition, we offer our deepest condolences to the bereaved families, and we also pray for the speedy recovery and peace of the wounded," the statement said.
"For the peace and safety of the people, the relevant authorities must thoroughly examine the cause and process of this tragedy and ensure that irresponsibility and oblivion are not repeated."
Archbishop Peter Chung Soon-taick Chung of Seoul also expressed his condolences and prayed for the victims and their family members.
He also prayed for the "authorities involved in the accident and all those who are working on rescue operations at the scene." The prelate expressed hope that "such a tragedy will not be repeated anymore."
President Yoon Suk-yeol has visited the location of the tragedy and declared national mourning until November 5. Entertainment events and concerts have been cancelled and flags nationwide are flying at half-staff.
The Halloween party was the first to be organised after the nation lifted its COVID-19 pandemic restrictions and allowed public gatherings without masks.
FULL STORY
South Korean church leaders want inquiry after stampede, offer prayers (UCA News)