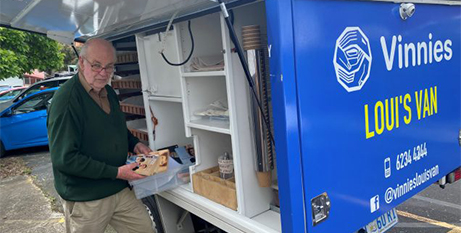 Tasmanian members of the ancient Order of St Lazarus of Jerusalem have undertaken a novel initiative, working with the St Vincent de Paul Society to bring the pleasure of reading to those in need. Source: Hobart Archdiocese.
The Order recently began providing a "Novel Crate Library" for two food vans run by Vinnies Tasmania's south. Each van is equipped with a box of 30 novels, available when food is being distributed.
Clients of Loui's Vans are free to simply borrow a book or keep it, and the Order replenishes the supply of books as required.
Order member Dallas Williams said the libraries offered some leisure to those who might not otherwise have the opportunity to read.
"Being able to provide a novel or two provides a very easy leisure activity for someone, it's free and it could be ongoing," Mr Williams said.
"It encourages people to connect with the van to receive the books. It encourages people to read themselves, to give themselves more confidence in that aspect."
About 400 novels have been donated to the Order by individuals and organisations.
The Order of Saint Lazarus of Jerusalem was established in 1098, as a Catholic military order founded by crusaders in Jerusalem to care for those suffering from leprosy.
Today, the non-denominational order has 7000 members – both men and women – in 39 jurisdictions around the world, including about 30 members in Tasmania.
FULL STORY
Ancient order takes a novel approach to serving those in need (By Catherine Sheehan, Hobart Archdiocese)