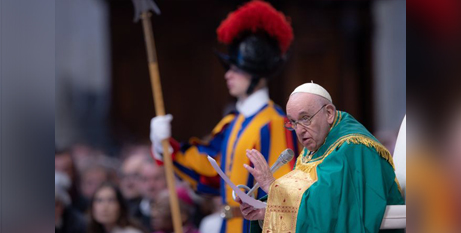 On the World Day of the Poor, Pope Francis encouraged Christians not to be brought down by the "doom and gloom" of the world, but to witness to the joy of the Gospel through service to those in need. Source: CNA.
"Let us take to heart the clear and unmistakable summons in the Gospel not to be led astray. Let us not listen to prophets of doom," the Pope said at Mass in St Peter's Basilica yesterday.
"Instead, let us bear witness," he said. "Let us light candles of hope in the midst of darkness. Amid dramatic situations, let us seize opportunities to bear witness to the Gospel of joy and to build a more fraternal world, at least a little more fraternal. Let us commit ourselves courageously to justice, the rule of law and peace, and stand at the side of the weakest."
Pope Francis celebrated Mass for the 6th annual World Day of the Poor, which was established at the conclusion of the Year of Mercy.
The poor were special guests at the Mass in St Peter's Basilica. The day was also marked by a number of initiatives to aid those in need, including a free meal and medical care.
In his homily, Pope Francis urged Christians not to let themselves become victims of the many crises happening in the world — such as war, famine, poverty, and natural disasters — but take action where they can.
Pope Francis said Christians, when encountering trials, should ask themselves: "What is the Lord saying to us through this moment of crisis?"
The poor pay the heaviest price, he said, issuing a warning about hardened hearts.
"If our heart is deadened and indifferent, we cannot hear their faint cry of pain, we cannot cry with them and for them, we cannot see how much loneliness and anguish also lie hidden in the forgotten corners of our cities."
FULL STORY
Pope Francis: 'Light candles of hope in the midst of darkness' (By Hannah Brockhaus, CNA)
RELATED COVERAGE
Pope Francis says difficult times should inspire compassion for others (Crux)