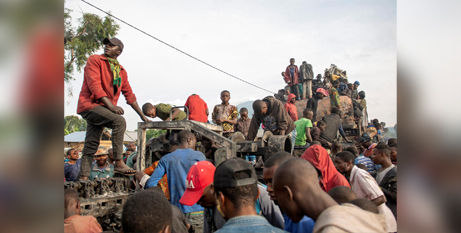 Bishops in the Democratic Republic of the Congo have lamented the "serious" state of violence in the country and have called for prayer, fasting and a special march for peace. Source: Crux.
In a statement on Friday at the close of their November 7-9 extraordinary plenary assembly, held in Kinshasa, the Congolese National Episcopal Conference said the situation "is serious. Our country is in danger!"
"Let's not Balkanise the Democratic Republic of the Congo," they said. "From north to south, from east to west, as well as in the diaspora, let us all stand up to safeguard the territorial integrity of our country."
To this end, they invited Christians and all people of goodwill "to fast, to pray, to make gestures of solidarity" with those displaced by violence. They also invited faithful "to march peacefully on Sunday, December 4" for an end to the country's cycle of violence.
The plea for peace and the announcement of the march for peace comes as more than 100,000 people have fled their homes and dozens of others have been killed in a fresh bout of fighting between Congolese soldiers and the M23 rebel group.
In one of the world's most lengthy and deadly conflicts, violence in the Democratic Republic of Congo erupted some 30 years ago and has left more than six million people dead and has forced 4.5 million people from their homes.
Despite the presence of a large United Nations peacekeeping mission, over the past year violence in the country has again reignited as national security forces attempt to battle more than 100 armed groups, mostly in the country's east.
FULL STORY
Congolese bishops announce march for peace amid ongoing violence (By Elise Ann Allen, Crux)