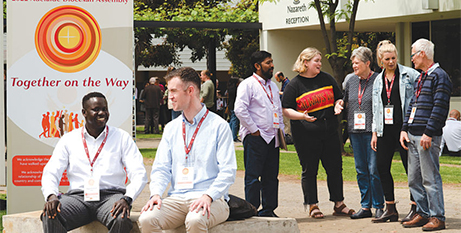 Participants of the Adelaide Diocesan Assembly have pledged to take practical steps to fulfil the mission of the local Church. Source: The Southern Cross.
The assembly, held at Nazareth Catholic Community on October 21-22, addressed the key themes raised during the first assembly in 2021 and the consultation process that followed. The gathering of 350 clergy, Religious, laity and agency representatives concluded with a commitment to share their "intention to action".
Director of the Adelaide Archdiocese's pastoral life and mission, Sarah Moffatt, said the assembly's success lay in the shift in direction from theory to practice as the archdiocese continues its synodal journey under the banner of "Together on the Way".
"We're actually moving now towards all of us being Church, doing our bit in our local places, all of us together," she said.
"The next step is to support parishes, schools and communities to develop their own pastoral plans and strategies."
She said each "intention of action" would be published in a booklet and provided to parishes and communities.
Participants were encouraged to share their experience of the second assembly with their local communities, with options for prayer and presentation at Masses and meetings provided.
The next Diocesan Assembly is likely to be held in 2024, after the Synod of Bishops which is now being held over two years, with regional assemblies planned for 2023.
FULL STORY
Assembly commits to local mission (By Jenny Brinkworth, The Southern Cross)