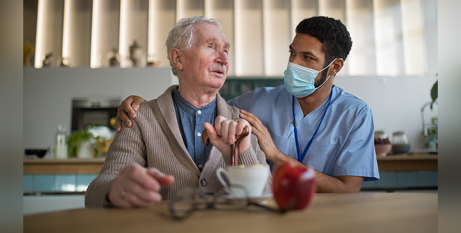 Aged and disability care staff will be trained to give medication and report malnutrition and dehydration in elderly nursing home residents, in long-awaited changes recommended by the royal commission into abuse and neglect. Source: The Australian.
In tougher requirements, the nation's skills ministers will force training providers to upgrade the course content of in all Certificate III qualifications for aged and disability care.
Workers must be taught to check the expiry date of medicines and give the correct dose at the right time to the right person.
They will also be shown how to monitor elderly residents for weight loss, dehydration and malnutrition.
"Restrictive practices'' – such as sedating a resident, restraining someone in a wheelchair or placing a barrier on a bed to prevent a fall – will also be outlined in training courses.
Students will learn about legislative and regulatory requirements, ethical considerations and documentation requirements for restraining residents.
They will have to detect incontinence, malnutrition, dehydration or weight loss, and know how to report problems to a nurse, doctor or manager.
Staff will be trained in treating bed sores, helping elderly residents eat and drink, and helping with continence and hygiene.
Aged Care Crisis, which advocates for high-quality aged care, hailed the tougher training requirements as long overdue, given the systemic abuse and neglect of elderly Australians living in nursing homes.
Training providers, including TAFE, will have 12 months to incorporate the compulsory lessons in medication management, personal care, dementia support and nutrition for all Certificate III in Individual Support courses.
Federal, state and territory training ministers have endorsed the changes, which coincide with a pay rise of at least 15 per cent to be paid to aged care staff.
FULL STORY
Tougher rules for aged care training (By Natasha Bita, The Australian)