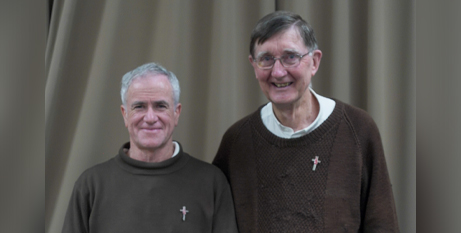 The Missionaries of God's Love priests and brothers have elected Fr Stephen Fletcher MGL as their new moderator, replacing founder Fr Ken Barker as the congregation's leader.
Fr Fletcher is currently serving in the MGL's seminary in Melbourne, and will take up the role of moderator immediately.
The election of a new moderator is a significant milestone in the history of the MGLs, marking the conclusion of Fr Barker's leadership. Fr Barker has served as moderator since founding the congregation in Canberra in 1986 and has been re-elected moderator for two consecutive terms since its recognition as a religious institute of diocesan rite in 2014 by the Holy See. According to the statutes of the MGLs, a moderator can only serve for two consecutive terms before a new moderator must be elected.
Under Fr Barker's leadership the MGL has grown to 56 professed brothers, of whom 30 are priests. The MGL have formation houses in Canberra and Melbourne, and six mission centres across Australia, Philippines, and Indonesia.
Fr Barker said he was "delighted" at Fr Fletcher's election.
"He is well suited for the role, having been my assistant for many years. He has a strong missionary vision and a gentle pastoral heart," Fr Barker said.
Fr Fletcher indicated he was greatly humbled by the election by his brothers saying, "Let's keep our eyes fixed on Jesus, be good stewards of the grace God has given us and continue to build on the good work already done".
FULL STORY
New Moderator for the Missionaries of God's Love (Missionaries of God's Love)