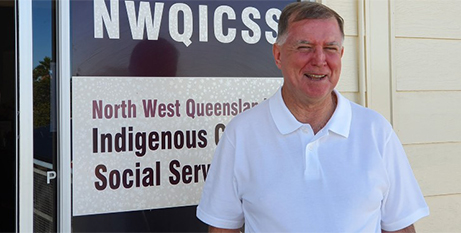 Townsville Diocese priest Fr Mick Lowcock has warned that more support for early intervention programs is needed to stop the scourge of domestic violence that is resulting in high numbers of Indigenous men going to jail. Source: The Catholic Leader.
The Mount Isa priest is an unswerving advocate for better services for the Indigenous community in the red-dirt Queensland mining town where he has served for the past 30 years.
"We have to look at the whole question of anger in people's lives," he said, eying the latest Bureau of Statistics figures that show Australia's incarceration rate now sits at 214 prisoners per 100,000 adult population, a near-record high.
For Fr Lowcock, the tightening of domestic violence laws in Queensland – including strangulation and soon-to-be introduced provisions regarding coercive control – will see more Indigenous men in jail unless early intervention can change destructive and violent behaviours.
He cites new research that pinpoints drink driving and driving unlicensed as first signs of domestic violence.
"Particularly out here it's true," he said.
"What it means is if we could cut it off at the pass … get the magistrate to order offenders to come to us at that early stage to do some anger and relationship training there might be a much greater chance of lessening the amount of domestic violence."
This month, Fr Lowcock was a nominee for this year's Queensland Senior Australian of the Year for the charity he founded – the North West Queensland Indigenous Catholic Social Services Limited (NWQICSS) that provides 11 important support programs.
The award was won by Claude Harvey OAM for his inspirational work as a child protection campaigner and Bravehearts fundraiser.
FULL STORY
Mount Isa priest promotes early intervention to curb DV scourge (By Mark Bowling, The Catholic Leader)