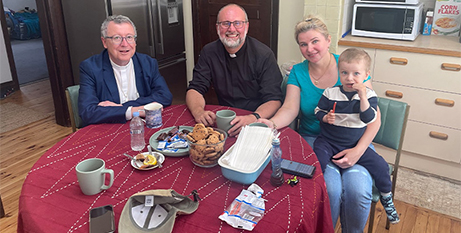 Little did the volunteers preparing a home for Ukrainian refugees in central west New South Wales know that just weeks later they would find themselves homeless and in need of charity from those they had welcomed. Source: The Catholic Weekly.
Among the first on the front line in Molong helping with the clean-up following the devastating floods were the town's newest residents. Shoulder to shoulder, the refugees shovelled mud, swept water, carried rubbish and cooked for those who had given to them and now lost so much.
Completely cut off by floodwaters, the town of 2500 saw its streets turn into raging rivers. The deluge carried at least two shipping containers down the main street, lifted parked cars and wiped out several small businesses.
The same businesses that proudly displayed the colourful blue and yellow flags of Ukraine only weeks before were now covered in brown mud, windows smashed and furnishings destroyed.
Volunteers who had just started to relax after spending months restoring an old disused Josephite convent for the refugees, once again swung into action.
Taking Mary Mackillop's motto to heart, "never see a need without trying to do something about it," the refugees joined in and rolled up their sleeves to give back a little of what they had received.
"We really wanted to help with the clean-up, we wanted to help the beautiful people of Molong, who have done so much for us," Yuliia Shulika said.
Parish priest Fr Greg Bellamy said the new families wanted to give back to those who had given so much but little did anyone know they would get the opportunity quite so soon.
Diocese of Bathurst Bishop Michael McKenna has launched an appeal to provide immediate and long-term support for these communities of Eugowra and Molong. Details: Bishop's flood appeal.
FULL STORY
Molong's Ukrainian refugees Return the Favour (By Debbie Cramsie, The Catholic Weekly)
RELATED COVERAGE
Community converts empty convent into home for Ukrainian refugees (CathNews)