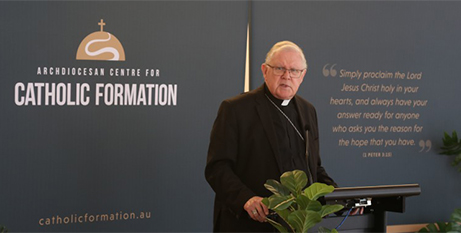 Strong demand to learn more about the Catholic faith and how to share it with others has sparked Brisbane Archdiocese to launch the Centre for Catholic Formation, with courses on offer from early next year. Source: The Catholic Leader.
"Most of us get our training or formation as children," Evangelisation Brisbane's associate director of Adult Formation, Shane Dwyer, said,
"Well, where do we get it as adults in a way that is formational rather than information?"
Launching the new centre, Brisbane Archbishop Mark Coleridge said each of the courses would "engage both the head and the heart to help participants grow their knowledge and understanding of the Church" and draw participants "into the lived experience of the faith knowing Jesus".
During the past three years, Brisbane Archdiocese has trialled a number of public courses, and with hundreds of people accessing courses in person and online, Mr Dwyer concluded there was "a strong appetite" for more systematic and comprehensive training by modules.
Brisbane's Archdiocesan Centre for Catholic Formation will take shape in 2023, with Mr Dwyer presenting the first of four modules starting on February 20. It will run for 10 weeks and cover Theology.
Over the course of two years, other 10–week modules will cover "Understanding, Praying and the Scriptures", "Sacraments and their context in liturgy in the Catholic tradition" and "What it means to be a missionary disciple of Jesus Christ".
Joining Mr Dwyer as a presenter will be Dr Peter Pellicaan, executive director of Evangelisation Brisbane, as well as other guest presenters including Archbishop Coleridge and Brisbane's Auxiliary Bishop Tim Norton.
Details: www.catholicformation.au.
FULL STORY
Brisbane launches Centre for Catholic Formation (By Mark Bowling, The Catholic Leader)