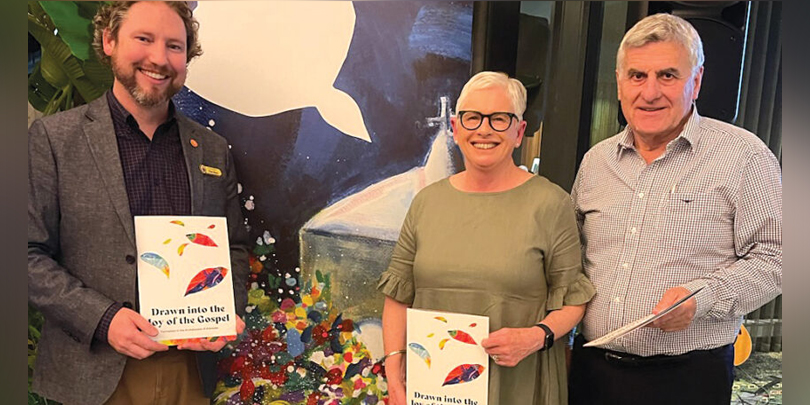 A new document aims to foster the faith of all people of God in the Archdiocese of Adelaide. Source: The Southern Cross. 
Developed in response to the recommendations and decrees of the 2021 and 2022 Diocesan assemblies and the Fifth Australian Plenary Council, Drawn into the Joy of the Gospel presents a vision for formation in the Archdiocese.
At the launch of the document, at the Marion Hotel last month, Adelaide Vicar General Fr Dean Marin said it was important to make sure that everyone in the archdiocese was made aware of the document and stressed that it was for all Catholics, "not just a select few".
"We're all part of this, we're all in this, this is a vision for all of us, no matter what perspective we may come from," he said.
Adelaide theologian Fr James McEvoy, the main architect of the document, said, "As people of faith, people for whom the love of God is the foundation of our lives, we share in the evangelising mission of the Church.
"We endeavour to allow the love of God to transform the world through our lives. So, faith in the love of God in Jesus Christ through the Holy Spirit is both what brings us together and what moves us into the future.
"In that context, then, Drawn in the Joy of the Gospel aims to foster the faith of the people of God in the Archdiocese of Adelaide."
Fr McEvoy said the primary purpose of Drawn into the Joy of the Gospel was to assist every parish and community to think about the formation of all of their members, in every dimension of their community life.
To this end, Fr McEvoy said workbooks had been prepared to guide parishes and communities.
FULL STORY
Fostering faith formation with joy (By Jenny Brinkworth, The Southern Cross)