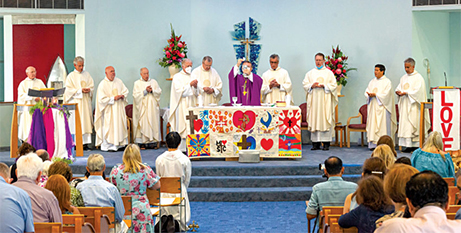 The Missionaries of the Sacred Heart may have departed Adelaide's Henley Beach parish, but the legacy of their 64-year contribution will live on. Source: The Southern Cross.
This was the clear message at an emotional farewell Mass celebrated by Adelaide Archbishop Patrick O'Regan in Our Lady of the Sacred Heart Church on December 4.
He was joined by past and present MSCs and deputy principal, Fr Peter Hendricks, and Adelaide Archdiocese's vicar general Fr Dean Marin.
Parishioners Don and Judy Newham, who have been members of the Henley Beach parish since the MSCs were invited there by the Archdiocese in 1958, presented Fr Hendricks with a framed photo of the church and the choir paid tribute with a cleverly-crafted version of the Sound of Music's So Long, Farewell.
Long-time parishioner Lucina Loro Parham couldn't hold back the tears when she gave a reflection on behalf of the parish.
"Since 1958 when Fr Cuthbert Hoy was officially appointed as our first parish priest here at Henley, the Missionaries of the Sacred Heart have planted seeds of love and hope amongst us and in us," she said.
"Their actions speak strongly of their love for our parish and everyone in it, from the very youngest to the very oldest of parishioners."
Resident MSC Fr Paul Cashen said through the process of deciding to leave Henley Beach, the Australian province had faced the reality that of the 110 MSC men in Australia, 82 were aged over 70 years.
"I can assure you that we as MSCs will watch with interest the unfolding parish life, recognising the need to engage everyone, especially the young, the elderly and those on the margins," Fr Cashen said.
FULL STORY
So long, farewell to MSCs (By Jenny Brinkworth, The Southern Cross)