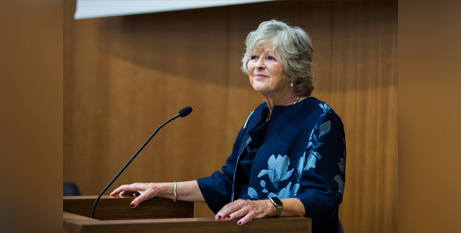 A founding member of the Holy See's child protection commission has echoed criticism of its leadership and questioned the wisdom of placing the body within the Vatican's doctrine office. Source: The Tablet.
Baroness Hollins, among the first raft of individuals appointed to the Pontifical Commission for the Protection of Minors (PCPM), is an expert in child psychiatry and psychotherapy and is a former President of the Royal College of Psychiatrists. She has worked closely with abuse victims and spent several years advising the Church on child protection.
Delivering a lecture in London on November 28, Lady Hollins pointed to clericalism and cited comments made to The Tablet by Sr Jane Bertelsen, another former member of the commission. Sr Jane, the Congregational Leader of the Franciscan Missionaries of the Divine Motherhood, said that "a collaborative, synodal style of working … was not evident in my last few months on the commission".
Lady Hollins described this as "a direct and critical comment on the current leadership" while pointing to the need to tackle clericalism and that power in the Church still resides within the clerical, hierarchical system.
As part of Pope Francis' reform of the Roman Curia, the pontifical commission has been placed under the Dicastery for the Doctrine of the Faith, which has responsibility for prosecuting and processing cases of priests accused of sexual abuse.
"It's anomalous to put a safeguarding commission into the department that deals with allegations against priests given that its brief is to prevent abuse and to address the care and healing of victims/survivors. The Dicastery for Family and laity seems much more in tune with the overall goals of the Commission," Lady Hollins said.
The commission for the protection of minors was set up in 2014 to advise the Pope on safeguarding measures, help victims and help local bishops' conferences to establish effective safeguarding and reporting mechanisms.
FULL STORY
Baroness Hollins challenges effectiveness of Vatican child protection body (By Christopher Lamb, The Tablet)