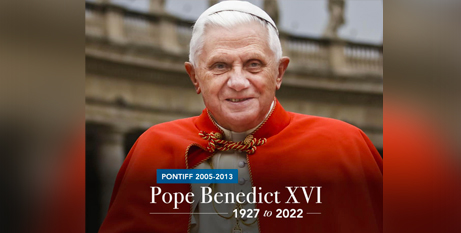 Pope Benedict XVI "spread and testified to" the Gospel his entire life, Pope Francis told tens of thousands of people gathered for his predecessor's funeral Mass. Source: CNS/USCCB.
"Like the women at the tomb, we too have come with the fragrance of gratitude and the balm of hope, in order to show him once more the love that is undying. We want to do this with the same wisdom, tenderness and devotion that he bestowed upon us over the years," Pope Francis said in his homily at the January 5 funeral Mass.
The Mass in St Peter's Square was the first time in more than 200 years that a pope celebrated the funeral of his predecessor. Pope Pius VII had celebrated the funeral of Pius VI in 1802 when his remains were returned to Rome after he died in exile in France in 1799.
Pope Benedict, who had retired in 2013, had requested his funeral be simple. However, many dignitaries and presidents and government ministers representing more than a dozen nations were in attendance, as were most of the ambassadors to the Holy See.
Pope Francis presided over the Mass and Cardinal Giovanni Battista Re, dean of the College of Cardinals, was the main celebrant at the altar. Some 120 cardinals, another 400 bishops and 3,700 priests concelebrated.
An estimated 50,000 people filled the square for the Mass.
Just as Pope Benedict dedicated his pontificate to directing the faithful's focus to the person of Christ, Pope Francis dedicated his homily to Christ's loving devotion and suffering witness as the "invitation and the program of life that he quietly inspires in us," rather than on a summary of his predecessor's life.
Pope Francis spoke of Jesus' grateful, prayerful and sustained devotion to God's will and how Jesus' final words on the cross, "Father, into your hands I commend my spirit," summed up his entire life, "a ceaseless self-entrustment into the hands of his Father."
"Holding fast to the Lord's last words and to the witness of his entire life, we too, as an ecclesial community, want to follow in his steps and to commend our brother into the hands of the Father," he said of Pope Benedict. "May those merciful hands find his lamp alight with the oil of the Gospel that he spread and testified to for his entire life."
"God's faithful people, gathered here, now accompany and entrust to him the life of the one who was their pastor," the Pope said. "Together, we want to say, 'Father, into your hands we commend his spirit.'"
"Benedict, faithful friend of the Bridegroom, may your joy be complete as you hear his voice, now and forever!" he concluded, as the crowd prayed in silence.
FULL STORY
At funeral, pope remembers Benedict's 'wisdom, tenderness, devotion' (By Carol Glatz, CNS)
SPECIAL EDITION
CathNews published a special edition on January 1 to mark the death of Pope Benedict XVI. If you missed that edition, you can read the articles at the links below.
Pope Emeritus Benedict XVI dies aged 95
Pope Benedict XVI died yesterday, aged 95, after a sudden deterioration in his health earlier this week due to his advancing age. Source: The Tablet.
Church in Australia mourns death of Benedict XVI
Archbishop Timothy Costelloe SDB says Pope Benedict XVI will long be remembered fondly in Australia as the Pontiff who led young people from around the globe in prayer at World Youth Day in Sydney in 2008. Source: ACBC Media Blog
Pope Francis expresses gratitude for the life of Benedict.
Pope Francis has recalled the "kindness" and "nobility" of his predecessor, paying tribute to the late Pope Benedict XVI for his life of service to the Church, particularly his final years spent in retirement and prayer. Source: Crux
Key moments in Benedict's eight-year papacy.
Pope Benedict XVI, who had an impressive record as a teacher and defender of the basics of the Catholic faith, will go down in history as the first pope in almost 600 years to resign. Source: OSV News
Cardinal Pell reflects: A prolific writer and a fine theologian.
Joseph Ratzinger, Pope Benedict XVI, is universally regarded as one of the finest theologians and writers in the papacy's almost 2000-year history, writes Cardinal George Pell. Source: The Australian
Pope Benedict's spiritual testament: 'Stand firm in the faith'.
Pope Benedict XVI's final message to Catholics around the world was: "Stand firm in the faith! Do not let yourselves be confused!" Source: CNS Rome.
Archbishop Fisher: Benedict could be a Doctor of the Church
Sydney Archbishop Anthony Fisher OP knew Pope Benedict XVI well, including through their close connection forged for World Youth Day 2008. In a written message and video, Archbishop Fisher shared some of his memories of the late pope.