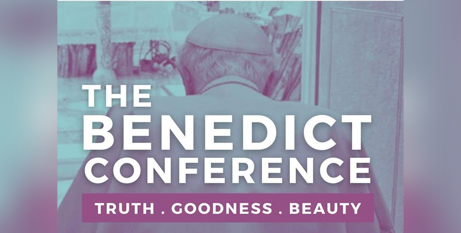 An inaugural conference in Melbourne next month will bring together experts and specialists on the late Pope Benedict XVI to explore his life and legacy. Source: Melbourne Catholic.
Aptly named The Benedict Conference, the sold-out event will be held at Australian Catholic University's Melbourne campus on October 28.
International speakers and local panellists will draw on the thoughts of Benedict and discuss what a Church of faith can offer to a world that is restlessly searching — or as the former Joseph Ratzinger put it in a 1969 radio address, how the Church can offer "an answer for which they have always been searching in secret".
Some major international speakers will join the conference by livestream to offer their keynote addresses. United States Bishop Robert Barron, founder of Word on Fire Ministries, will begin the conference in conversation with Melbourne's Professor Tracey Rowland, Catholic theologian and winner of the Ratzinger Prize for Theology. Both are passionate about the thoughts of Pope Benedict XVI and will explore his significance for people today.
Among the other international speakers joining via livestream will be American theologians Dr Larry Chapp and Jason Evert. The conference will also feature several panels of local speakers to help participants unpack the key topics of truth, beauty and goodness.
Fr Dean Mathieson said the idea for the conference came around the time of Benedict's death on December 31 last year.
"Benedict had an extraordinary ability to articulate profound truths in an accessible way," Fr Mathieson said. "He had an ability to put into words those things we know but struggle to explain ourselves.
"I would hope that the conference will play a part in reminding us that the Church has answers for a confused world, and hope for the faithful who are striving to navigate the confusion of our times."
The conference has sold out but according to the ticketing website, the organisers are seeking to increase capacity and have opened a waitlist. Details: https://www.benedictconference.com
FULL STORY
Benedict Conference to explore what a 'Church of faith' can offer a searching world (Melbourne Catholic)