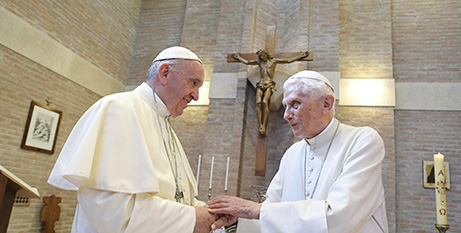 Pope Francis has recalled the "kindness" and "nobility" of his predecessor, paying tribute to the late Pope Benedict XVI for his life of service to the Church, particularly his final years spent in retirement and prayer. Source: Crux.
Leading the Vatican's annual Vespers service for New Year's Eve in St Peter's Basilica, Pope Francis in his homily offered a special thought for his predecessor, retired Pope Benedict XVI, who passed away earlier yesterday.
"With emotion we remember his person, so noble and so kind. And we feel so much gratitude in our hearts: gratitude to God for having given him to the Church and to the world, gratitude to him for all the good he has done and above all for his witness of faith and of prayer, especially in these last years of his retired life," he said.
"Only God knows the value and strength of his intercession, of his sacrifices offered for the good of the Church," he said.
Continuing his reflection on gentleness, Pope Francis in his homily on New Year's Eve described the gentleness of God as a virtue and as "a lifestyle that favours fraternity and social friendship" and proposed it as a "civic virtue".
Gentleness, he said, "is an antidote against some pathologies in our society: against cruelty, which unfortunately can insinuate itself like poison into the heart and toxify relationships; against anxiety and the distracted frenzy that makes us concentrate on ourselves and close off from others".
FULL STORY
Pope Francis hails Benedict XVI's 'kindness,' voicing gratitude for his life (By Elise Ann Allen, Crux)
RELATED COVERAGE
Pope pays tribute to Benedict XVI's witness of faith, prayer, kindness (Vatican News)