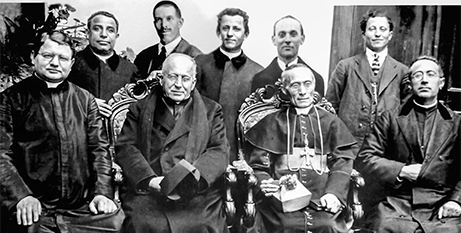 The Salesians of Don Bosco are this year marking 100 years of Salesian presence and ministry in Australia with celebrations planned throughout the year.
On March 30, 1923, a group of Salesian missionaries arrived with high hopes in Fremantle, Western Australia, and were later joined by Salesian Bishop Ernest Coppo. Their intention was to work with Indigenous people in the Kimberley in the education of young people.
Due to unforeseeable circumstances and difficulties they encountered, some Salesians returned to Europe disappointed, while others moved to Melbourne to minister to Italian immigrants. They also helped in the education of poor and abandoned young people in Victoria. These few determined Salesians moved forward in hope, trusting entirely in God's will, for their new mission in Melbourne.
With much gratitude to these dedicated first Salesians, the Australia-Pacific Province of Mary Help of Christians will celebrate its centenary with pride.
A highlight of the celebrations will be the launch of a commemorative book by Fr Frank Moloney SDB on the history of the Salesians in Australia.
An opening Mass for the centenary and blessing of the newly-minted memorial of gratitude to all benefactors will launch celebrations today at Rupertswood in Sunbury, Victoria.
On Saturday, Perth Archbishop Timothy Costelloe SDB will ordain five Salesian deacons in St Francis' Church in Melbourne.
In April, Salesian Rector-Major Fr Fernández Artime Ángel will make a visit to the Australian province.
FULL STORY
Fr William Matthews of the Salesians of Don Bosco presents: A Year to Celebrate (Salesians of Don Bosco)