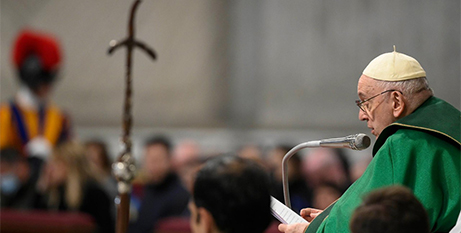 Pope Francis celebrated a Mass marking Word of God Sunday, during which he conferred the ministry of lector on five women and two men and said the Gospel is intended primarily for the sick and far away. Source: Crux.
Francis formally opened the ministry of lector, along with that of acolyte, to women in a 2021 decree. He established the Day of the Word of God on the third Sunday in Ordinary Time in 2019. In Australia, the day is marked on the first Sunday in February, which this year is February 5.
In his homily on Sunday, the Pope noted that in the Gospels, Jesus uses the Word of God to heal and lift people out of darkness, insisting that the Word of God is not only destined "for the righteous of Israel, but for all."
Jesus, he said, wants to reach "those far away, he wants to heal the sick, he wants to save sinners, he wants to gather the lost sheep and lift up those whose hearts are weary and oppressed. Jesus 'reaches out' to tell us that God's mercy is for everyone".
Since the Word of God is intended for everyone, especially the far away and lost, it must be a priority for the ecclesial community, the Pope said, praying that as a Church, "may it not happen that we profess a God with an expansive heart, yet become a Church with a closed heart; that we preach salvation for all, yet make the way to receive it impractical."
FULL STORY
Installing women as lectors, Pope says Word of God is for all (By Elise Ann Allen, Crux)
RELATED COVERAGE
Resources for Word of God Sunday (Australian Catholic Bishops Conference)