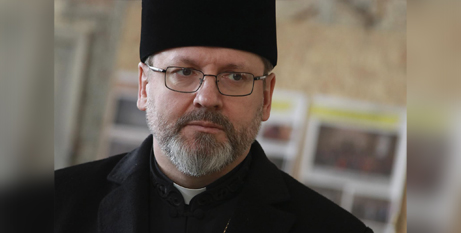 The head of the Ukrainian Greek Catholic Church has opposed a draft bill banning the activities of the Moscow Patriarchate in Ukraine, saying the measure would turn Russia's supporters into martyrs. Source: Crux.
Speaking to the Ukrainian Pravda news agency, Major Archbishop Sviatoslav Shevchuk was asked about a draft bill submitted to the Ukrainian Parliament banning the Ukrainian Orthodox Church of the Moscow Patriarchate. "I question it, he said. "I do not want to give prescriptions for our legislators."
This, Major Archbishop Shevchuk said, is because the Ukrainian Greek Catholic Church was once formally banned itself under Soviet communist rule.
"We survived underground. Moreover, the very fact that we were a martyred church that did not become a collaborating church with the Soviet authorities saved our moral authority," he said, insisting that just because a church is banned "does not mean the end of its existence."
A church, he said, "is not only a religious structure, not some organisation that has a charter, a leader, a religious centre. The church is people who also have constitutional rights. As long as there will be people who are oriented towards Moscow Orthodoxy in Ukraine, that church will exist – even when, according to state law, it would be illegal."
He argued that banning the church at an official level would "give this church the palm of martyrdom," and will allow Moscow loyalists "to really go into silent opposition and become those who will then claim authenticity."
Major Archbishop Shevchuk said he recently told one Ukrainian legislator that, "If you want to perpetuate the Moscow Patriarchate in Ukraine, ban it."
FULL STORY
Ukraine's top Catholic frowns on banning Orthodox church loyal to Moscow (By Elise Ann Allen, Crux)
RELATED COVERAGE
Ukraine and Russia church leaders make contrasting unity appeals (The Tablet)