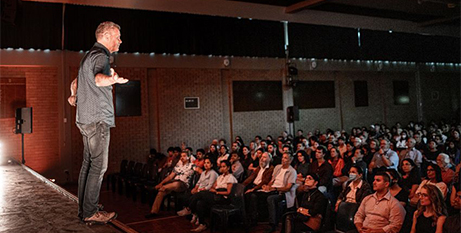 Visiting Theology of the Body expert Christopher West drew about 1000 people over two events in Sydney last weekend to listen to his message of hope and the meaning of human sexuality. Source: The Catholic Weekly.
It was just the beginning of a new partnership between the Philadelphia-based Theology of the Body Institute and the Sydney Centre for Evangelisation, to bring its offerings to Australians, online and in-person, with Dr West and other staff returning in 2024 and beyond to teach students in Sydney.
After more than two decades speaking and writing on the subject, including in Sydney during World Youth Day in 2008, Dr West is perhaps the best-known communicator of St John Paul II's Theology of the Body.
The Made for More tour invited people of all ages to dive into a two-and-a-half hour immersion into the riches of the Catholic faith and the ways in which God reveals himself through creation and how our desires are meant to draw us closer to Him.
With singer-songwriter and guitarist Mike Mangione, Dr West asked his audiences to learn to look beyond mere appearances when it comes to engaging with others and understanding ourselves.
They also invited all to look deeper to see the meaning of liturgy, the Eucharist and to not be afraid to open their hearts to Christ in confession, the sacrament of healing.
Daniel Ang, director of the Sydney Centre for Evangelisation, said the two evenings with Dr West and his team, which also included the Theology of the Body Institute's Jason Clark, were inspirational.
"Over the coming years we'll be working closely with Christopher and the Theology of the Body Institute to offer 'theology of the body' courses for people in Sydney and the wider Church in Australia, and to raise up and equip leaders in this field of evangelisation. So it's a really exciting time and we've started planning for Christopher's return visit in 2024."
Details: www.sydneycatholic.org/tobi
FULL STORY
Large crowds welcome the Theology of the Body to Australia (By Marilyn Rodrigues, The Catholic Weekly)