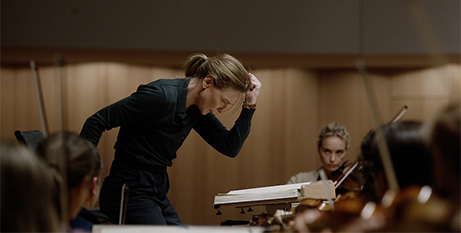 In Tar, a psychological drama, Australian Cate Blachett plays the role of a conductor and composer preparing to perform Mahler's Fifth Symphony. Source: Jesuit Media.
This American/German production is film about corporate intrigue, erotic obsession, musical genius, disturbed behaviour and personal duplicity.
It begins by showing Lydia Tar (Blanchett) being interviewed at the height of her musical career. She is preparing for the launch of her book, Tar on Tar, as well as a much-anticipated live performance of Mahler's Fifth. Tar's life unravels to reveal a desire for power that fiercely energises all her behaviour.
Tar is an extraordinary film for the performance of Cate Blanchet. She plays Tar in vivid detail and with compelling complexity, nuance, force and sophistication. It has earned her Best Actress at the 2021 Venice Film Festival, a Golden Globe award and an Oscar may soon be hers. Blanchett, under the creative guidance of director Todd Field, changes the acting envelope.
Tar lives with her wife, Sharon (Hoss) – a violinist in her orchestra – but their relationship is tinged with resentment. Tar's musical assistant, Francesca (Merlant) is caring but has conflicting ambitions of her own. Envy, ambition, spite and resentment play out.
The film is masterfully constructed, and almost gothically directed by Field. One doesn't quite know whether to despise or admire Tar.
Review by Peter W Sheehan, Jesuit Media
Tar: Starring Cate Blanchett, Noemie Merlant, Nina Hoss and Mark Strong. Also Sophie Kauer, Julian Glover and Allan Corduner. Directed by Todd Field. Rated M (Mature themes, coarse language and brief nudity). 158 min.
FULL REVIEW
Tar (By Peter W Sheehan, Jesuit Media via Australian Catholics)