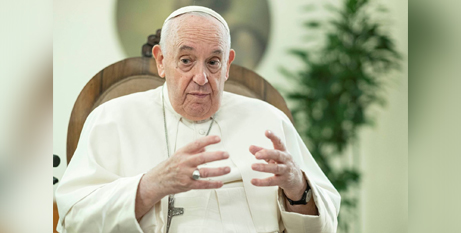 Pope Francis has urged Christians to "speak the truth and to do so with charity" amid polarisation and divisions within the Church. Source: CNA.
In his message for the World Day of Social Communications released yesterday, the Pope said everyone has the responsibility to "communicate truth with charity" in a time "marked by polarisations and contrasts – to which unfortunately not even the ecclesial community is immune".
"We should not be afraid of proclaiming the truth, even if it is at times uncomfortable, but of doing so without charity, without heart," Pope Francis said.
Pope Francis underlined that this call to speak the truth from the heart "radically challenges the times in which we are living" in which the truth can be exploited with disinformation. He said that "it is necessary to purify one's heart" to see clearly and bear good fruit in communication.
Speaking of the Church's ongoing "synodal process," the Pope said that there is a pressing need in the Church for "listening without prejudice" and for communication that is "balm on wounds and that shines light on the journey of our brothers and sisters".
The Pope added that with the war in Ukraine it is urgent to reject hostile forms of communication in favour of "paths that allow for dialogue and reconciliation in places where hatred and enmity rage".
The Pope's message was released on the feast of St Francis de Sales, the patron saint of writers and journalists. The day itself will be observed on May 21.
FULL STORY
Pope Francis: Amid polarisation in Church, we are called to speak truth with charity (By Courtney Mares, CNA)
RELATED COVERAGE
Pope: Communicating with the heart can curb escalation of war (Vatican News)